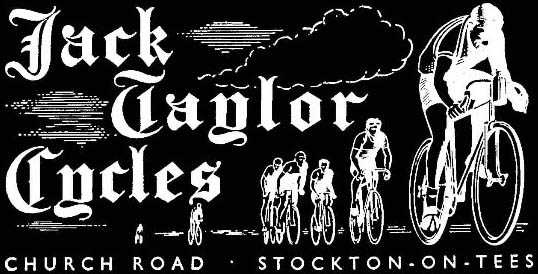 ---
---
From Mark Lawrence:

Iım sorry to bring sad news.  Norman Taylor of Jack Taylor Cycles, CTC hard-rider and a renowned frame builder died at 0430 this morning in hospital of pneumonia and complications attached to having had multiple strokes and prostate cancer.  He was aged 85. Norman was a hardy character, and most will remember him as giving the impression of being as strong as an ox. He also, had an infectious laugh, and like many men who are confident of their strength, a gentle nature. Full length obituaries will follow in several magazines, but for now spin your cranks, raise your beer and listen to an old jazz track. Norman has finally crossed the finishing line, and now he can take a well earned rest.

I'm sorry this is the only new material on this site of late - i have been quite busy and distracted with other projects (and actual work!), but I'm hoping to get back on point soon here. In the meantime, this is sad, if not unexpected, news. I was lucky to be able to meet Norman briefly in 2006, and met a man who, despite obviously suffering ill-effects of his earlier stroke, was every bit the gentleman and cycling enthusiast all who have ever met him described him to be. He was generous with his time with someone he'd never met, simply because of a shared love of bikes. My only wish is that I had made that trip earlier. Now I am merely thankful that every distance ride i head out on, I will be reminded of Norman's skill with the torch, and his enthusiasm for the bicycle, as I throw a leg over my own Jack Taylor.

Norman, as your brother Ken would say - have a nice ride. The world of cycling is a smaller place without you.
---
Jack Taylor Cycles was the framebuilding collaboration between the 3 Taylor brothers, Jack, Norman and Ken of Stockton-On-Tees, England. A range of frames for touring and racing was produced under the marque from 1936-2001, and they are considered by many to be the closest thing Britain has to a French-style "constructeur" a la Herse and Singer etc. Well-known for beautifully clean lugless ("welded", or fillet brazed) construction (a method which rose out of neccessity during the war years - lugs simply weren't available) as well as for lugged frames, and impeccable box and lug lining.
Each of the brothers had their place in the enterprise:
Norman Taylor - Framebuilding
While Jack Taylor started the business, and built the first frames back in 1936 at the age of 18, Norman soon took over the framebuilding position of the trio. Everyone I've spoken to who's seen Norman wield a torch has spoken with reverence concerning his ability to quickly lay a fillet of brass and leave a weld so smooth that filing would be irrelevant. This is, in many ways the basic secret of a Taylor - what Holland Jones (of Fulton Street Cyclery, and later Velo City, in San Francisco - at one time the largest customer of the Taylor shop) referred to as "magic hands" welding - the ability to cleanly weld with the absolute minimum of heat applied to the tubing, something that directly affects the ride quality of the finished frame. When I first saw Taylor frames, another aspect of this was one of the attractions - the brazed joints that were smooth enough to have been filed, but weren't. While the surface isn't neccessarily indicative of the weld's strength, it does attest to the builder's skill, hinting at what lies beneath - and while many file their welds, removing any trace of the builder's skill, these were an open book for anyone to read. Now into his 80s (2004), Norman (who had a stroke in 2003) can still wield a torch, and still rides (fixed, i think) back and forth to the pub and around town.
Jack Taylor - Painting and Transfers
When Norman took over framebuilding, Jack moved into the painter's booth. While the original few Taylors had been sent off to Claud Butler's shop for paintwork, Jack's work rapidly took over, starting with the arbitrarily chosen restart of the frame numbers at #400. Taylor owners who ordered from the trio have often stated that the finish work was as much a part of ordering a Taylor as the frame itself. Jack's paint was top-notch - the Taylor "flambouyant" colours are particularly brilliant - as was his lining, accomplished with a small roller (box lining) and a set of dividers (for lug lining with regular thickness). Originally, they had someone else to do the lining, who used a brush, but when he died (date?) Jack took over, keeping what may have been a dying art alive. Jack also did repaints, and enamelling for other builders, though later pricelists specify that such services are available only for their own bikes. Jack also took care of the bulk of the bookkeeping responsibilities. After Jack left the business in 1990, paint was outsourced, and the bikes produced post-Works are typically plain color jobs, rarely with box or even lug lining. The oldest of the three, he is now (2004) in his mid-80s, and has little involvement with the world of bicycles at this time, but I am told is still sharp as a tack when it concerns the old days.
Ken Taylor - Assembly, Wheelbuilding and Crating
Besides being a fine wheelbuilder (I myself have a front wheel that Ken probably built in the 60s sometime, and it's still true as can be) and general mechanic, Ken took care of the bulk of the tasks related to final assembly and shipping, including drilling the rim blanks they typically ordered when 40 and 48 hole rims weren't readily available. His crating work was always a special touch - I've met several Taylor owners who still keep the handbuilt double-wall corrugated cardboard shipping boxes that Ken built by hand, because they're almost too nice to throw away - and always with "Have A Nice Ride" written across the top. These boxes can be a great source of the small bolts for Taylor bottle cage bosses and rack mounts if you haven't tossed yours - they typically are assembled with the same hardware. With Jack gone from the paint booth post-Works, many frames shipped straight from the painter, missing this extra care, and a number of later Taylors arrived with shipping damage after a long international trip. Ken is the youngest of the brothers, still in his late 70s, and while an accident a few years back put him off his bike, he still keeps up with the world of cycling quite passionately.
While their original background was in the world of early British road racing in the 30s and 40s, the Taylors catered actively to the touring cyclist, producing a line of capable touring singles and tandems, suitable for everything from day touring to british rough-stuff and french-style randonneurring. Bicycles for the road and track were also produced, as well as touring trailers, junior and children's bikes, trikes, triplets, and even a trailerbike and the odd custom unicycle!. Taylor carriers were custom-made, and serialized with the frames they came with, concealed dynamo wiring was available, and standard, adjustable and tandem stoker stems were also produced. Tandem models (and Curved Tube and Ladies frames as well, I beleive) were always built lugless, because of difficulty of obtaining proper lugs for the various nonstandard angles.
Jack Taylor Cycles was a truly custom shop - while they had their production models, they would build anything the customer would draw out for them. This might mean simple modifications to an existing production model, adaptations of other builders designs (the Five Bar Gate/Flying Gate, for example), uncommon frame styles (unicycles, front-steer tricycles) or bicycles built entirely to the customers specifications, the Taylors would build whatever was asked, as long as the customer could come up with specs that would build a working bike.
Reynolds and the Taylors had a close relationship, and Reynolds actually produced custom plain-gauge 531 tandem tubes, and double-butted curved tubes, for the marque. The tubesets may have been initially exclusive to the Taylors (they may have owned the tooling2), but as early as the late 1970s (as Taylor business slowed and extra tubesets sat in stock at Reynolds), they were available for purchase by other framebuilders3. Alex Singer may have used Taylor fork blades (and possibly other tubes as well) for their tandems4 - Ken Taylor has verified that some tubesets were sold to French builders5.
Jack himself left the business in March of 19901, and the works on Church Road was closed up, but Norman continued building frames (with Ken's help) in the original Taylor workshop shed until mid-2001, stopping somewhere in the area of 9000 frames (including trailers and trailerbikes) built in the 65 year history of the marque. A good summary of Jack Taylor Cycles' history (up to the end of the 1970s) can be found in the book The Custom Bicycle, which is archived on this site, along with other articles and brochures, on the Literature page.
---
Some interesting (perhaps) notes:
The Taylors, like some French builders, continued using mounts for Cyclo and other chainstay-mount derailleurs on some of their touring frames far after they had fallen out of general fashion6.
Taylor water bottle and fender bosses are also English thread - 10/32 (size 10, 32 tpi, i beleive - don't cross-thread with standard metric bolts!) - and are usually brazed-on nuts for the brass screws they typically used as fasteners.
Earlier Taylors have fender eyelets brazed halfway up the seat stays and fork blades, as was the fashion. Frames with rear carriers typically have a second set of holes in their mounting tabs for fender attachment, rather than double eyelets on the rear dropouts.
---
Information I am especially seeking for this page:
Serial number of your Taylor, along with a detailed description (model name, size, paint etc), photos, date of manufacture etc (see the Registry for more details on the info I'm looking for)

Serial numbers for any of the Taylors shown in the unknown serial portion of the Registry

Serial numbers and information on any Taylor pre-1950!

pictures of Rann trailerbikes (type a hitch), unicycles, junior bikes, or anything I don't have an example of already

Scans of catalogues post-1960, price lists pre-1970, brochures, articles, drawings of bikes or accessories

Scans of unapplied (ie still on backing paper) "gothic" head tube and down tube transfers, and the "enamelled by Jack Taylor" head tube transfer.

good clear pictures of Taylor carriers, stems or other accessories separate from frames or bikes
Beyond this, I'm looking for almost anything Taylor to add to this site, or to my personal collection - if you've got anything to share or sell, please let me know!
---
A big thank you to (in no particular order):
Dale Brown (8119, 8757) for getting this started with the CR Taylor page

Bob Freeman (7990 and others) for a huge repository of brochures, as well as the "mondrian" transfer images, and for securing permission to reproduce the article from The Custom Bicycle

Mike Thompson (8750/MST1 and others) for his fat stash of Taylor paper and knowledge.

Troy Warnick for getting ahold of the framework of the year-by-year serial # listing

Dave Radmore (LASTONE and others) for sharing his 50-year history with the Taylors

the long list of people who contributed to that original version of the serial number list on the CR site, and to everyone on the CR mailing list for their input - if I thanked you all by name, this section would become unreasonably large.

and especially to Erik Zo, whose enthusiam for the Taylors got me started in the first place.
I won't pretend to be the fountain of knowledge about the marque - just someone interested enough to try and collect all the information I can in one place - so feel free to correct me if I'm wrong anywhere!
Thanks, and enjoy the page!
Joel Metz (8647, 7603, 7327, 5925, 4003, 1431)
---

---