---
From Le Miroir des Sports (France), 17 Nov 1931: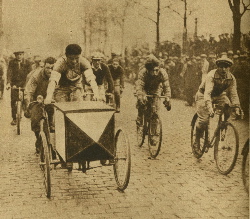 The same as one year ago, Marcel Cognasson wins the Championnat des Triporteurs
Marcel Cognasson has won, for the 5th time Sunday morning, the Championnat des Triporteurs, which we will not see organized any longer, as the prefect of the police has prohibited the organization of sporting events within the confines of the capital. Cognasson, who is absolutely unbeatable in this difficult race, dominated his adversaries easily, covering the 39 kilometers in the time of 1h 20m 35s, beating his old record of 1h 29m 21s, and realizing, on his very heavily loaded vehicule, the incredible average speed of more than 29 km/h. In spite of the incredible strength of his thighs and legs, Cognasson performance on a simple bicycle is merely mediocre!
---
---