---
From Le Miroir des Sports (France), 16 Nov 1926: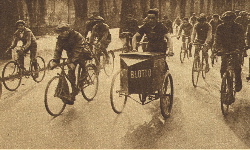 While Frelin won, in 23', the 12km cycle circuit, Cognasson took the triporter championship (50km) in 1h48'52".
---
From Match l'Intran (France), 16 Nov 1926: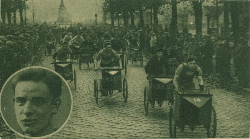 The start of the Championnat des Triporteurs drew a crowd of sporting cyclists
The drivers of the triportuers which one is accustomed to see cutting across the streets of Paris with complete disdain for danger, held their annual championship Sunday morning.

It is a curious sporting event which obtains continually greater popularity, and must surely contribute to the expansion of this modest means of commercial transport. The winner, over the course via Courbevoie, Pontoise, and return to the Porte Maillot, improved upon previous times.

Thirty-six competitors entered the race. At the start, sixteen of them escaped and, increasing their lead, arrived at the finish with nearly eleven minutes' lead over their closest followers.

The winner, Marcel Cognasson, a deliveryman for a printer in Faubourg Saint-Honoré, whose club is Vélo-Club de Billancourt, is a remarkable athlete. With a "tri" loaded with the regulation weight of 65 kg, he succeeded in covering the distance, in spite of a strong wind, in 1 hour 48 minutes and 52 seconds, at an average speed of 29.087 km/h.

How many cyclists could acheive the same time on this same course?
---