---
From Le Miroir des Sports (France), 13 Mar 1944: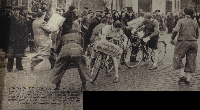 A burst of energy in a corner of Paris. At the porte de Lilas, at a checkpoint of the Championnat des Porteurs de Journaux, the job is to swap out every 15 kg load of paper... it was inevitable! It was the old racer of the V.C.L., Laroulandie, which won!

The porteurs de journaux, dare-devil bicycle acrobats of the streets of Paris, performed some additional work Sunday: they held their traditional championship. These sixty couriers started with a 15 kilo package of newspapers on their bicycle, from rue Montmartre, their usual quarter; but it was not a question of going to deliver the merchandise to some kiosks. This time, they must bring their load back to Montmartre, to the top of the rue Lepic, after having made a tour of Paris via the exterior boulevards.

So that the test was truly professional, two controls had been established, one at the porte d'Orléans, the other close to the porte des Lilas. At each control, the competitors were to exchange their cargo for another of the same weight.

The "roule-toujours" did not lose anything of their legendary swiftness and Sunday they pedalled at a beautiful pace on the exterior boulevards of the capital. As soon as the group had reached the place Blanche, a small group, composed of the favourites, was formed. It was in particular made up of Smout, Baroux, Laroulandie, Ribeyre, (who won the event in 1941) Hinet, Gallet. At forty km/hour, the racers descended l'Etoile on the viaduc d'Auteuil.
| | |
| --- | --- |
| | |
| Place Blanche, Laroulandie is again at the head of the race for the title of champion of the "roule-toujours" | Before the porte de Charenton, Smout, Chavel and Gallet took the lead and tried to escape, but did not succeed |
At the porte d'Orléans, they were awaited by their buddies. And at this point in time more cleverly, or [...]
[... ] Hinet, Smout and Gallet. The painful rise of the rue Lepic allowed Laroulandie, known as "la Roulette", who had been rather sparing his strength, to escape and cross the finish line alone, and to thus carry off the title of champion of Paris of the porteurs de journaux.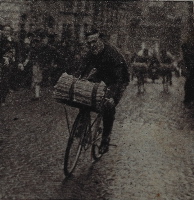 In the rue Lepic in Montmartre [...]
Results: 1. Laroulandie (Paris-Soir), 35 km in 1h 4m 27s; 2. Smout (Paris-Soir), 1h 4m 32s; 3. Baroux (Paris-Sport); 4. Gallet (Coopérative); 5. Hinet (Paris-Midi); 6. Ribeyre (Coopérative); 7. Lahaix (Coopérative); 8. Chauvel (Coopérative); 9. Speur (Nouveaux Temps); 10. Delettre (Coopérative); 11. Gaultron (Paris-Sport); 12. Lahalle (Paris-Soir); 13. Gallotint (Nouveaux Temps); 14. Lecoq (Nouveaux Temps); 15. Lamareille (Nouveaux Temps); etc...
Article courtesy of Roland Darboucabe.
---
---
back to the main Critérium des Porteurs de Journaux page
back to the main messengers.org history page