---
I figured it was time I included a "Things I've Learned About Riding PBP" type section to this page... so here we go...
What I'd Do Differently, Next Time:
Stick with lemon-lime electrolyte replacement drink. Everything else is nasty, and you wont want to drink it, especially the stuff they sell in the controls, which I'm pretty sure is powdered bread. How people can do this ride sustained only by energy drinks, bars and gel I simply do not know. I mean, i understand how they can - I just don't understand why anyone would want to...


Pack less. There was absolutely no need for me to be carrying a sleeping bag and tent - a space blanket would've sufficed (no matter how much i abhor them), as the only time I would've used it would've been an emergency nap. The Carradice alone would've been more than enough space front panniers were overkill, though it is nice to have some sort of bag up front to keep maps and a snack in. Perhaps I'll make something for next time.


Don't worry too much about carrying food and water. Carry a few small bits of emergency food and water, especially at night, but don't stress over it. There's so many people out on the road with food, water and precious, precious coffee that it's never really a problem. During the day, there's stores, and at night, even late at night, you'll almost inevitably run into a stash of water and maybe some snacks that nice French people have left on the curb for people just like you.


Ride a different bike. Not so much that the work bike was unpleasant, but I've proved my point. I'd do PBP again on the work bike, but there's no reason to. In 2007, I'll be on the Jack Taylor (either the full-blown tourer or the randonneur that's yet to be built up), and i don't doubt that it'll enable me to comfortably enact my 400 km riding/6 hours sleep/300 km riding/6 hours sleep/300 km riding/6 hours sleep/200km plan, and put me at the finish within 90 hours, and feeling quite a bit more fresh. I'd like to do it on a fixed gear at some point, too.


Be faster through controls. While it is nice to stop for a while, the controls really should serve as stops for bare neccesities - eat, sleep, shower, change clothes, get your card swiped, and get the hell out. Have your long chats with fellow riders on the road, take your pleasant breaks on the road. It's just too tempting to hang around the controls cause everything's there. Sprint through controls so you don't have to sprint on the road.


Spend more time getting to know people on the road. Actually, this is as much a part of being able to ride the route with more time to spare as anything is. Being constantly on the edge of the time limit, especially on the return trip, made much of PBP a blur for me - and it's not surprising that the names I do remember from PBP are the ones that I've found out afterwards. Overall, I was not as chatty as I would've liked to be.


Use those Internet terminals in the controls! I really wish I'd done this - I could've sent emails back to myself to serve as a journal - I could've set up some sort of forms-based thing that allowed me to update a blog of the ride remotely... etc etc.. This goes along with several other journal-"writing" ideas, such as taking pictures of road signs and my cyclometer (which coincides with "make sure your cyclometer is properly calibrated"...) to give myself an idea of where pictures are on the route, and using the minidisc recorder instead of trying to write. Lack of journals is my number one "regret" on PBP, I think.


Do a bit more "training". Sure, I was fine without doing the legions of brevets that people seem to do outside of the 4 qualifiers, but I don't think it would hurt to ride more than I did, even if messengering does lay down near-ideal base mileage for doing things like this. The whole concept of making rides into "training" tends to ruin it for me, though - I prefer to think of a ride as a ride for riding's sake - as soon as I start thinking of it as "training", all the fun and life gets sucked out of it somehow.
---
Credit where credit is due - here's a pic with me and the 3 Yorkshiremen who pulled me for quite a long ways on Thursday on PBP - David Atkinson, Gordon White and Graham ? - when I met up with them, I was pretty damn haggard, but I look fine here, right? Still can't remember what control this is, but it must be past Tinténeac, which is where we hooked up (I think...). Again guys, thanks a million! So glad we actually tracked each other down after me forgetting to get your contact info!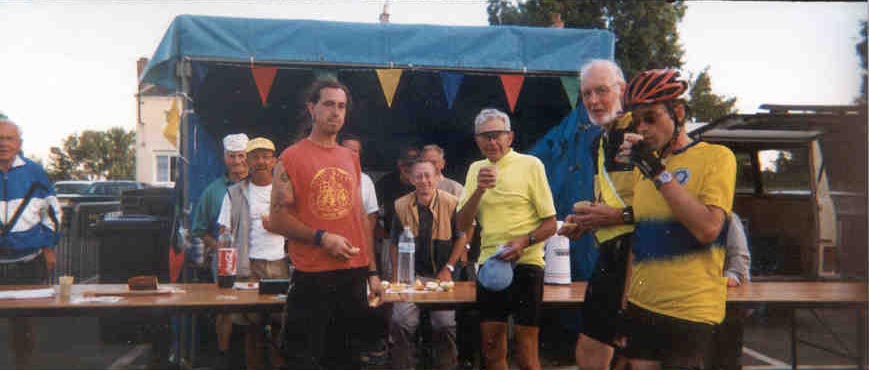 ---
Here's some links to accounts by people I ran into on PBP:
Adrian Hands #3568 - Raleigh, NC - we met in Fougeres, and again at the finish
Robin & Amy Pieper #4966/4967 - (tandem, 88h11), Seattle, WA - leapfrogged each other the entire time
Jean-Phillippe Battu #2875 - Grenoble, France - another leapfrogger
---
Should've added these a while back - here's a couple photos of me and Kathleen Hannon taken sometime on the first morning, eating croissants at a bakery, er, just past the first checkpoint? ah... pics by Robin & Amy Pieper - you should check out their great diary of how PBP happenned to them. It's much more cogent than mine.
---
Some new bits - here's scans of the 3 photos my parents ordered from the photo company - they took months to get here, after they lost the order, but here they are... where exactly on the route they were taken, im not sure, but im pretty sure they were all outbound from Paris.
---
Here's a nice table with all my stats for the checkpoints, thanks to my dad, who copied all these down from the ACP site. The figures in the parenthesis are inter-control distances/times/speeds)
Control
mileage
date/time
average speed
San Quentin en Yvelines
0 km
Mon 18 Aug 22h45


Villaines la Juhel
223 km
(223 km)
Tue 19 Aug 10h18
(11 h 33 m)
~19.32 km/h
(~19.31 km/h)
Fougeres
308 km
(85 km)
Tue 19 Aug 15h48
(5 h 30 m)
~18.07 km/h
(~15.46 km/h)
Tinteniac
366 km
(58 km)
Tue 19 Aug 19h53
(4 h 05 m)
~17.32 km/h
(~14.22 km/h)
Loudeac
452 km
(86 km)
Wed 20 Aug 00h51
(4 h 58 m + 3 h 15 m sleep)
~17.32 km/h
(~17.30 km/h)
Carhaix-Plouguer
529 km
(77 km)
Wed 20 Aug 10h25
(6 h 19 m)
~16.32 km/h
(~12.18 km/h)
Brest
615 km
(86 km)
Wed 20 Aug 16h23
(5 h 58 m)
~16.02 km/h
(~14.41 km/h)
Carhaix-Plouguer
696 km
(81 km)
Wed 20 Aug 22h32
(6 h 09 m)
~15.63 km/h
(~13.17 km/h)
Loudeac
773 km
(77 km)
Thu 21 Aug 05h03
(6 h 31 m + 2 h 30 m sleep)
~15.14 km/h
(~11.81 km/h)
Tinteniac
859 km
(86 km)
Thu 21 Aug 13h37
(6 h 04 m)
~15.04 km/h
(~14.17 km/h)
Fougeres
914 km
(55 km)
Thu 21 Aug 17h27
(3 h 50 m)
~15.00 km/h
(~14.36 km/h)
Villaines la Juhel
1002 km
(88 km)
Fri 22 Aug 00h10
(6 h 43 m)
~14.81 km/h
(~13.10 km/h)
Mortagne au Perche
1084 km
(82 km)
Fri 22 Aug 06h12
(6 h 02 m + 30 m sleep)
~14.71 km/h
(~13.60 km/h)
Nogent le Roi
1167 km
(83 km)
Fri 22 Aug 12h12
(5 h 30 m)
~14.74 km/h
(~15.09 km/h)
San Quentin en Yvelines
1225 km
(48 km)
Fri 22 Aug 16h02
(3 h 50 m)
~14.75 km/h
(~12.53 km/h)
Good lord, where to begin?
I thought that perhaps giving myself time to reflect back on PBP, a few weeks away from the blur that it was, would help me recollect what had actually happened beyond a few glimpses into the world of sleep-dep time loss that the ride was. I was wrong. It's every bit the hazy blur of events with no time markers that it was 3 weeks ago.
I do remember the start...
The day before, I'd gone through check-in, running into Kathleen, Ginger, Chris, and Darryl from SF, and Simon and Pat from Philly - my little crew of sorts... That is to say, The People I Knew. Chris had just rolled in from the airport, and had his bike bag all laid out, figuring on camping on the grounds, and was busy asking around for a "lighter". Those crazy Californians... I was nervous about check-in, cause I had some vision of them taking one look at my dirt-encrusted bike (that probably had more torturous miles in less time on it that a good 90% of the bikes there...) and declaring it unfit to ride. Of course, this was totally absurd, cause check-in is actually really cursory. Bike check? Yeah, your lights work, and that reflective vest, it's reflective. Got some strange looks for my punk rock reflective sash, cut-up that it was from pilfered road signs. Hey, I wasn't about to spent any money on something I have no use for, and that is one of the single greatest culprits in the dorkifying of cycle tourists everywhere. No way. Got even stranger looks for my bike, and general attire (BDU shorts and sleeveless t-shirt. Hey, it's what I wear riding every day!). Was mellow, overall. Checked in, got my papers and all that, turned around and headed back in Paris.
The excitement of check-in just carried into the next day - showed up nice and early for my 10pm start with the 90 hour group, and once again, there were bikes and cyclists everywhere. Even more total chaos that the day before, and just this air of excitement that the waiting spawned. Had dinner in the cafeteria, gawked at the various bikes sitting around, and then got in line for final check-in and the eventual start. Spectators galore. I've never seen so many spectators, not for an event that I was in. TDF, yeah. Not for me. That was a thrill, that so many people would come out to see riders head off into the darkness. As we started filing through the underpass and into the infield area, the sounds of a Bretagne instrument of some kind filled the air - sounded a lot like a ney, some sort of reed-flute thing, wailing and twisting sound in the wind.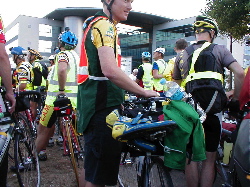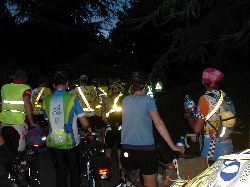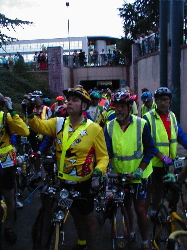 Bad pic of Ginger in line for final check-in, Bad pic of Kathleen, riders coming out of the underpass into the field area
We started in 4 groups, the 90 hour group - mine didn't head out until 2245h - something that would pay me back in the end as i looked at checkpoint closing times and tried not to use up my 45 minute bonus unless I absolutely had to... Cheers rose from the crowds lining the street, and the huge group of cyclists cruised out of town, slowly leaving streetlights and buildings behind, in favor of the darkness of the French countryside. People had told me of this sight - that of a long line of taillights in one direction and headlights in the other, stretching off as far as the eye could see, rolling over hills and across flats. Nothing can do it justice, there's no way I can really describe the excitement that sweeps through you seeing this, and realizing what you're doing on this ride. I wanted to do PBP because I would become a small little part of cycling history - a small little insignificant part, but a part all the same, if only for me - and now there I was. I'd had the conviction from the moment I was convinced to ride this year that I was going to finish, whatever the cost. Starting only firmed that conviction in my mind. Whatever the cost? Well, it's almost a month later now, and the nerves in my right pinky and ring finger are still messed up, and my left thumb still can't flex properly. Nerve damage. It'll come back, eventually. I just wish I could afford acupuncture right now to speed it up. [note: feeling eventually came back to my hand... 5 months later. do yourself a favor, don't ride PBP with flat bars (even with bar-ends) and worn-out gloves.]
But enough of that, and back to the road. Riding at night is always even more of a blur for me. You lose visual reference points that tell you how fast and how far, and you tend to focus on just going. Going going going. I know I talked to people, but I'm not entirely sure who they were now. I don't know how far I rode until we ran into our first encounter with the enthusiasm of the locals - a bakery open all night, with a lighted and decorated cyclist pedaling his bike above the doorway. They had bread and coffee, I know that much. It was the greatest thing on earth at that moment - my first induction into what became a regular late night ritual on the route. Soon enough we hit the first "checkpoint", which was actually just for refreshments this time around (it would be a full blown checkpoint on the return trip) at Mortagne Au Perche (141.0 km) - still dark, but food was needed. My policy, I had decided, was to eat whatever was available, whenever I could. I immediately noticed the availability of .75 L bottles of local hard cider - for 3 euros! Drinking, at 5 in the morning? It's Bretagne, and it's cider! We're on! Shared it with my friend Kathleen, but mostly shared it with myself. Ravitaillement indeed!
It's really amazing what a blur things start to become, though. And not because of the cider. You just get so focussed on the riding that unless you're able to note things as they happen, all memory of specific events just gets flushed. I had intended to write journal entries as I went, but that went out the window rapidly. I think I got one in, and it's insubstantial. I know where I stopped to sleep, and how long I slept for, but that's about it. Next time, I think I'll put the minidisc recorder and mic i brought along to record random sounds (number of random sounds recorded? Zero.) to better use. It would have been just the thing to document the ride, and it sat in my pannier the whole time. Lesson? Don't bring things you aren't going to use.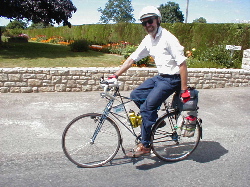 This man had built himself a somewhat Pedersen-esque bike - from Sussex, I believe - or was it Esses? Not sure if this was Tuesday or Wednesday... There's that blur again...
So I continued on at a pretty good clip through Monday night, and on through Tuesday, stopping at checkpoints to do the checkpoint thing, and have a good meal. Later on Tuesday, I ran into a stop that I'd heard about from other riders who'd ridden PBP before - this guy and his family in La Tanniere (just west of Gorron) who open up their garage to serve coffee and crepes to riders, and who have a whole series of bulletin boards set up with postcards from around the world, all from people who have stopped at their place during PBP. Pretty neat stuff, and pretty good crepes, as well! I'll now extol the virtues of my nicely prepared and laminated maps that I made for PBP, which I used not once on the entire ride, but just now enabled me to figure out exactly when this happenned!
I had originally planned to stop my first "day" of riding late Tuesday night, somewhere around the 400km mark, outside checkpoints, and just rough camp on the side of the road... Well, in all of my careful calculations about how I'd ridden my 400km brevet in 24 hours, and my 300km in 18, and my 200km in12 - well, sure, I ought to be able to complete PBP in 72 hours of riding if I rode it as a 400, followed by a 300, and then 2 200s... All I would then need was 6 hours of sleep each night, and voila! A 90 hour PBP! Of course, I had neglected one little detail which brought this whole perfect idea crashing down. The checkpoint closing times... At the pace I was going, there was no way I was going to be able to sleep for 6 hours anywhere during this ride. That's the big factor in PBP, really. Riding 1200km in 90 hours is no problem. Riding 1200km in 90 hours when you have to worry about checkpoint closing times... that's a whole different can of worms. As I rolled into Tinteniac, I was tired, and that was ok, cause I was planning to stop to sleep in another 35km or so. But something happenned there - as I rolled on, past the 400km mark, I was feeling really good, and when you're feeling good on PBP, you go with it, cause you can't afford to waste it. So I picked up my pace, and started sprinting for Loudeac, the next checkpoint, at 452km. I don't know where the kick came from, but there it was, and I was spinning along in the dark at 30km an hour...
I arrived at Loudeac, oh, I guess somewhere around 2 in the morning, had my food, stashed my stuff, and went to the cots. I instructed the people there to wake me up at 5am, and come 530, I woke up of my own accord. I don't remember anyone waking me up at 5, but I could see me falling back asleep again... but still... It was a mild little psychological setback - I felt I couldn't really trust the checkpoint staff to wake me up, or could I? Regardless, there was riding to do, so I ate a quick breakfast, and headed out digesting it - I know had 30 minutes of excess stoppage time to make up.
Carhaix came and went, and I headed into the hills leading into Brest. Somewhere in here, I had been warned that there was the Big Climb (tm) of PBP, the name of which I can't, for the life of me, remember. Oh wait, looking at my maps again, it's actually on the way out of Brest - at least that's the only double arrow climb that Michelin shows. So I'll get to it later. There were definitely climbs on the way into Brest, though, some longer ones that definitely seemed more difficult than what I'd climbed Tuesday. Maybe it was just the knowledge that somewhere out there near Brest was this big climb that was really supposed to take it out of me... I really think it was kind of a psyche-out, though, cause I don't really remember anything all that hard on the way out... Oh well.
So at last we rolled into Brest, or at least the outskirts of it. I'd managed to end up with Simon and Pat, 2 messenger friends from Philly, who I'd been riding with on and off these first couple of days, and we all stopped on the pedestrian (although it's perfectly legal for cars to drive on it...) bridge on the outskirts of town and took pictures of ourselves or out bikes with the suspension bridge in the background. We then continued on, and rolled through town to find the checkpoint. At last, the halfway point. Somewhat of a relief, but also a nice reminder that oh yeah.... now we have to go back.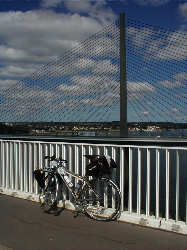 An easy one - my bike, on the pedestrian bridge coming into Brest. Cool suspension bridge in the background. No matter how much I detest modern design, I'm still a sucker for a suspension bridge.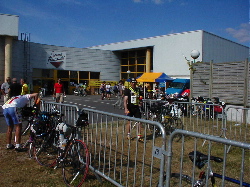 The turnaround checkpoint, Brest. Big joke is "When I get to Brest, I'm quitting and riding home". Har har.
The way back is even more of a blur than the way out. We left Brest late, far later than I had originally hoped for, but I knew by now that most of the times I had hoped for were really just pipe dreams, so I made the best of it. I know by the time I got back to Carhaix, it was dark, and I was so exhausted that the hills rolling into town and the uphill through town and into the checkpoint were enough to completely sap me - I was as close to bonking as I ever got on PBP. I actually had to get off and walk the last few blocks into the checkpoint, and for some period of time, I seriously considered packing it in. But as it always seems to do, a short rest and a meal reinvigorated me (Bless you, years of eat and run working as a messenger...), and I headed out into the night to Loudeac, where I would risk it and crash in the cots again, with just over 300km for the day. I was sticking to my 400/300/300/200 plan, but not quite as it was originally laid out...
Loudeac came sometime in the early morning hours - still dark, but there it was. I stopped, ate, and headed to the cots, instructing them to wake me up at whatever time i told them... And once again, I woke of my own accord - this time 1 hour later. Lucky me. So now I had a full hour of wasted time to make up, and only 45 minutes of "bonus" from being in the last start sub-group. Not encouraging. It didn't help that I woke up shivering uncontrollably, either - or was that the night before? I can't remember... I think heading out of Loudeac that morning, or perhaps the next checkpoint, is where I ran into the three Yorkshiremen who were to save my PBP. Unfortunately, their names are lost in the blur (you guys out there? email me! you don't deserve to be forgotten like this!), though I do remember one of them riding a black Taylor (funny what we do remember, ain't it?). Best company I could have had, whereever it was that we hooked up. I lagged behind for the time between one set of checkpoints, and then they graciously pulled me for hours and several more checkpoints, until I was actually capable of doing a turn on my own. I think I rode with them off and on almost all the way through to Mortagne au Perche, which was to be my final sleep checkpoint until the finish.
This is where the time scale of my narrative will likely start jumping all over the place, because despite the lucidity of any conversation I may have had at the time, I was exhausted. That I could continue to push myself through the pains that had been travelling through my legs for ankles to knees to calves to shins, never staying anywhere for that long until they decided to stay in the ankles, was pretty amazing. I'm not sure what to attribute that to, but there it was - it was a 4 day festival of pain threshold management, and I was ringmaster of my own pain circus. The price we pay, I guess, but I could have done without it. I was keenly aware that there were less people on the road now - we ran into fewer and fewer other cyclists, but still with some regularity, and there were always plenty at checkpoints. Everyone was just strung out all over the course at this point.
Into night number 4 things went, and the long stretches of straight road heading back through the 100km stretches between checkpoints, which got progressively longer as time went on. The worst of it came between Villaines la Juhel and Mortagne - with a long straight stretch of road repaved with a gravel topcoat that made it seem like you were riding knobbies - rolling resistance went through the roof, the vibration killed your hands, and the constant flow of large trucks kept things stressful. It wasn't really that bad, though - the trucks always gave us a wide berth, but it was obviously getting to some people. So was the exhaustion. Thursday night was when it started to happen - people started dropping like flies. You'd see them , crashed out at the side of the road, with just over 12 hours left in PBP, sleeping like they had all week, or wandering around in a daze at the side of the road. People were just cracking - they couldn't take anymore. They'd pull up to a stop signal, and just zone out. It was like riding through some zombie movie or something. Another big psychological barrier - how to keep going when all these people around you are just shattered?
But keep going I did, and I finally reached Mortagne as it was getting light, ate a quick bite, and shuffled in for a 30 minute nap, which didn't really help much (or at least so it seemed at the time - it was probably more of a help than I realized), got woken up (on time this time!), ate something, and headed out, knowing that the end was near. First thing I realized was that the way back from here was way hillier than I had remembered it. It's amazing how different things seem when you're riding them alone, completely exhausted, in full daylight as compared to riding them in a huge group, excited and full of energy, in pitch blackness. If you had told me that the last 200km was exactly the same at the first 200km, just backwards, I would have been very reluctant to beleive you at that moment. There were a few bits that looked familiar, but most everything seemed completely new, and utterly unlike anything I remembered riding out only 3 days earlier. Thsi was very disorienting, cause I had no reference points as to how far I was from the finish, or anything at all really, and when you're desperately hoping that the finish is just around the next bend, this makes things tough.
People were still dropping, though - some as close as 25km from the finish - I guess when you can't go anymore, there's just no making it happen. I can't imagine what a crushing psychological blow that would be, though - to be that close and not be able to finish. At those times, I really think it kind of helped me that I had gone through my entire lead-up to PBP convincing myself that there was no way I was going to come in over time limit or drop out. The idea of it was completely inconceivable to me at that point - especially after riding through my urge to pack it back in Carhaix. There were some close times, and I was watching the clock and mileage like a man possessed (though by this time, I was fully aware that the wheel size must've been set wrong on my cyclometer, cause by the end of PBP it claimed I'd ridden some 1500km...).The day before, I'd gotten into one checkpoint (Villaines?) with 3 minutes to spare into my "bonus" time, after having sprinted the last 10km at 30km/hour to make it. I wasn't going to let myself get that close again.
Finally more suburban-looking housing started to crop up, and we started making more and more turns, and then roads that looked familiar from the start began to crop up. I can't convey the feeling of relief that this brought, knowing that I was within striking distance of the finish. The stoplights of St. Quentin proper came into prominence, and I began to curse them, screwing up my momentum, which I needed so badly by this point - my ankles really hurt severely by now. The last few turns through town I just started running lights, the messenger habits creeping through, as I wanted more than anything to be able to roll into that gymnasium infield, park my bike, and get my card run and brevet card stamped one last time. That time came soon enough, and man what a relief it was. Kathleen and Pat and Simon were already there, word got back to me that Darryl and Rob had finished as well, but that Chris had dropped out early. It was a relief to stop, to be able to take my shoes off and wander around in a daze with hundreds of other people. Finally got to meet Jan, who I''ve been working with on his magazine Vintage Bicycle Quarterly - he'd managed to post the fastest time in the mixed tandem class, on a 1940s Rene Herse. I wandered amongst the bikes for a while, looking for anything interesting, but only found a few vintage bits - lots of mostly uninteresting modern bikes... The awards ceremony came and went, with even more chaos than a CMWC awards ceremony, which was kind of refreshing for me to see that it wasn't just us...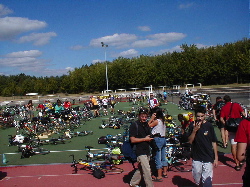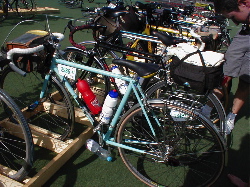 The chaos of the finish area - looks kinda like the start, doesn't it?, and then this nice blue Herse that was parked there.
From there, I hopped on the train back to Paris, kept myself from falling asleep on it, and rode slowly and painfully back to Sorrel's place in the Latin Quarter. I dismantled the bike downstairs, unwilling to try to drag it up (I'd almost gotten stuck on my way down that infernal staircase on Monday), and packed it away when I got upstairs. I spent the next few hours yammering away, trying to convey my deluded hysteria and excitement of accomplishment, and then passed out, only to awake on a normal schedule the next day, but with the glory of swollen ankles and lower legs, and fingers that are still numb now, a month later.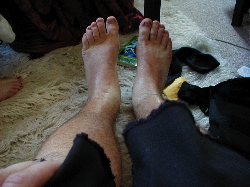 This is what my feet looked like the next day. I don't know if you can really tell, but they're ridiculously swollen. I was very happy that I'd brought loose-fitting shoes...
Will I do it again? Hell yeah.
---
OK, so a quick review of things now that I'm back, in anticipation of my full ride report, which will come in a few weeks once I'm back from the Cycle Messenger World Championships, which I leave for in 2 days...
PBP is the single most difficult thing I have ever done in my life, physically and psychologically. It was also one of the most amazing cycling experiences of my life. There really are no words for it. It's a 4 day festival of pain threshold management, and an amazing display of cycling camaraderie and general appreciation by the French people on the route. There's nothing quite like riding along through the countryside in the middle of the night, with a line of bike lights trailing off in either direction, or having whole families out on their curb cheering you on at all hours of night and day, or people who've set up tables with free coffee, water and food for you. Just amazing. It still brings a smile to my face and gets me all worked up, even a week later now, with my right ring and pinky fingers still numb, and pain still behind my left knee. Was I insane to take this on? Yes. Did I carry way too much stuff? Yeah. Was riding the work bike a bit crazy? Yup. But I had to do it, and prove to myself I could do it, and so I did.
I'll add a full report, as much as my addled brain can recall of the blur that was PBP 2003, later, but that's all for now. Anyone I may have met on the road out there who reads this, please contact me - I failed to get contact information for so many people, and names are rapidly slipping from my memory... Especially the 3 Brits who pulled me a good portion of the day on Thursday - you deserve better thanks than me forgetting your names...
Cheers to all, and more later. It's good to be an ancien.
---
review and pics from PBP 2003 will be here post-event. In the meantime, my notes as it approaches...
---
UPDATE (continuing) 24 Sep 03: I've started typing up what I remember of PBP - all the pics are up, and the narrative will be updated as I add more to it...
---
UPDATE 25 Jul: It's REAL now. Just bought my plane ticket off priceline (not bad, either - $569 after taxes, SFO to CDG via Philly), and nows when the TRUE panic begins... T minus 19 days! I'll get into Paris on Aug 14th, and leave Aug 28th. Not as much time as I'd like, but enough to do PBP, pick up some bikes I've bought, and not spend too much $ shopping!
---
UPDATE: I just received my PBP rider packet, and here's some info for anyone who might be wanting to run into me at the start - I'm rider #4366, start time 2200h 18 Aug 03, check in time 15h15 17 Aug 03. If you're not going to be at PBP, you can amuse yourself by tracking my progress at the Audax Club Parisien site. It's all in French, and the links arent up yet, but supposedly there'll be some way to follow any rider through their checkpoints by rider number.
---
Sometime last year, I ran into Darryl Skrabak - one of the guys behind the idea of the California Millenium Ride, and he started prodding me towards the idea of doing Paris-Brest-Paris - the end-all-be-all of randonneur events - on my work bike. Yes, the 3-speed. PBP is something I've wanted to eventually do anyhow, and the idea of doing it unsupported, on the work bike, doesn't seem so bad after some of the epic single day rides in last years tour, covering much of the same type of terrain that PBP covers (ok, so there are a few more hills on the route of PBP...).
Well, after some quibbling back and forth between RUSA and SF Randonneurs, there's at least a partial SF-based brevet series geared towards those of us who are keen on doing this stuff totally unsupported (meaning no chase cars, no support crews, no bag drops, and no non-bike transport to event starts...), so it looks like my PBP attempt for 2003 is on!
PBP 2003 will be from August 18-22. The lead-up rides to PBP will start in early 2003 - riders who wish to do PBP must complete 4 qualifiers: 200km (13.5hrs), 300km (20hrs), 400km (27hrs) and 600km (40hrs) brevets by June of 2003 After some uncertainty, SF Randonneurs have been authorized by RUSA to hold 200km (01 Feb) and 300km (15 Feb) brevets - disappointing that they can't run a whole series, but that's how it is. The closest 400km (19 Apr) and 600km (03 May) brevets will be in Davis, held by the Davis Bike Club. Membership in SF Randonneurs is free, entry fees for their brevets are $12 each, and membership in RUSA is $20/year (if you'replanning on riding PBP, you must be a RUSA member prior to your 200km brevet.)
So the application came in the latest issue of American Randonneur, and now it's just a matter of getting the rest of my brevet numbers back, and sending $125 and the application in! Pretty exciting, if you ask me. Oh, and there's that little matter of the plane ticket... hmm...
If I'm to judge by the articles in the RUSA newsletter, the manner in which I'm planning on riding PBP is not the norm for most of the membership - all the talk of hotels and support crews is pretty foreign to me. Ever since I've known of PBP, I always thought of it as something to be ridden alone - not in the sense of not riding along with anyone, but in the sense of having to depend on nothing outside of oneself to make the ride. Sure, I'll probably have one of the highest gear to gears ratios on the start line, but i can't see making such a ride without being prepared to set up camp for the night...
My current plan for riding PBP consists of breaking it down into a 400 km ride, 2 300 km rides, and a final 200 km. That way, starting with the 10pm 90 hour group, i can give myself a comfortable 24 hours to ride the first 400 km, which will put me at my first sleep point at around 10pm on the 19th. I can then sleep until 4am, and then set out again with around 18 hours to do 300 km. That will then leave me 700 km into PBP, having made the turnaround in Brest, at around 10 pm on the 20th. Sleep til 4am again, and then another 300 puts me 200km from the finish at 10pm the 21st - time to sleep for another 6 hours and finish just under the time limit on the 22nd. Of course, this is judging my times based on my qualifying brevets - if I reflect on my times across similiar terrain in France while touring in 2001, I can probably cut enough time off my brevet times to make things a bit more comfortable. (Not to mention the amount of encouragement that can be offered by being surrounded by masses of other riders all suffering the same fate...)
Realistically, I think I can cut my time down to under 80 hours, even taking good bits of sleep - i know I want to get at least 3 hours of sleep at a stretch, with the exception of the first night after the initial 400 or so km, where I'll try to get 6 hours or so. I know physical exhaustion hasn't really been a problem in terms of having the energy to roll off the miles regardless of distance already travelled - my checkpoint-to-checkpoint times have been regular over all distances in the brevet series, so I know if I have to push myself, the reserves are there. From my experiences touring across similar territory in 2001, I know I can cover 200km in 9-10 hours, taking substantial breaks and riding alone, carrying more gear than I'll be carrying on PBP. I'm not too concerned with putting forward a fast time, but with finishing under the time limit with a comfortable ride - I don't really want to rake myself over the coals on my first PBP - I'll save that for another attempt, with an actual touring bike...
As it stands now, I'm planning on packing (in addition to the clothes and whatnot I'll be wearing at the start), for 4 days of riding - all in my Carradice bag:
3 spare pairs bib shorts
spare t-shirt
ls wool jersey
shorts
socks
lightweight gore-tex rainjacket
lightweight wool undershirt
lightweight sleeping bag
ultralight 1-person tent
my trusty spoon and bowl
small cable lock
toolkit
spare tubes, cables, sturmey parts, bulbs for headlights etc
In addition to that, I'll be carrying a set of small front panniers, which will be packed with items I know I'll want access to while riding - food and whatnot, as well as a set of laminated maps covering the route, and laminated cue sheets.
Sure, to some people this'll sound incredibly minimalist for 1200 km of riding over 4 days, but for many PBP riders, this might seem excessive! But it's my way - I'd just rather be prepared for any given situation, whether it be as simple as a flat tire, or something like having to spend the night out on the road sleeping in the rain. I have no intention of having ridden the 4 qualifying rides, paying my entry fee, and making a big trip to France to not finish PBP - if I'm going to go, I'm going to finish within the time limit, period - and I don't want anything I can anticipate to get in the way of that...
---
back to joels main pbp 2003 page
back to joels main randonneuring page